November 30th, 2014 by Ron Branch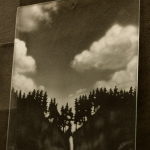 Etching clouds for some door panels.
What a challenge clouds can be… takes a bit of study, especially when going "free-hand". Here's a video of some of the practice involved.
Note: In photographing etchings I use a black background and lighting, but when etching glass for a client, first considerations are for where the glass will be installed. What will the real lighting be like? What will be on the other side of the glass. There are different ways to etch for different situations.