October 16th, 2010 by Ron Branch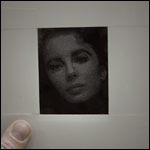 There's been another improvement on how I approach photo-realism. This is not a photo-resist process. It's really just traditional stage-blasting, but taken to an extreme level.
This example (based on Philippe Halsman's photo "Elizabeth Taylor 1948") is the first in a series I'm going to be posting. The ones to follow are going to be much more intense, more dynamic, and more detailed.