September 16th, 2010 by Ron Branch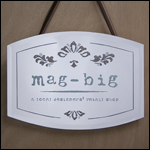 This is a small mirror hand beveled by Micky. The artwork is sandblasted into the back. She also added a touch of color to the lettering.
The mirror is for a new retail shop opening mid-October in Portland called "mag-big" that will feature the work of local artists and designers. There will be clothing, jewelry, household items, and more. We are planning on contributing our work there as well.
(click on the image to enlarge)