February 8th, 2015 by Ron Branch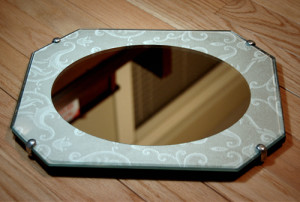 Recently Micky and I took the time to try out one of her mirror designs and we are very happy with how it turned out.
She cut and hand beveled a piece of 1/4″ mirror, a clipped corner rectangle approximately 16″ x 12″.
We removed the silver around the oval shape, added in the pattern, mounted it with adhesive and our own handmade clips to a wood backing board, and secured hanger hardware to the wood backer. We will definitely make more of these.