October 30th, 2014 by Ron Branch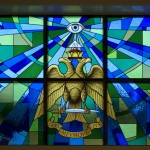 Got to help Chuck and Quincy install this (Chuck Franklin Glass Studio) up in the Seattle Scottish Rite Masonic Center. The amazing paint work is by Raphael Schnepf.
I don't know the significance or story behind the symbols in the design. Chuck's got a post up on his facebook page. I also put up a little bit more about this in the blog. There's a whole lot of new content regarding many of the recent projects that will be added soon both here and there.