March 27th, 2010 by Ron
Basically it's the home studio of Ron and Micky Branch. We specialize in glass art – mostly etched glass, and stained glass. Our clientele are mainly other glass studios, but of course all inquiries are welcome. Email us about your project – if we can't help you, we probably know who can. We are also currently in product development mode. Good things are in the works.
Stained Glass – We function as a stained glass overflow studio for several other local studios, providing top level craftsmanship in traditional leaded glass window fabrication. We will also take on repair work, and I am available for install work as well.
Sandblasting Service – I've been in the field for over twenty years, usually working in one studio or another, the techniques I use are highly specialized, advanced artistic rendering techniques in sandblasting, developed through experimentation over the years.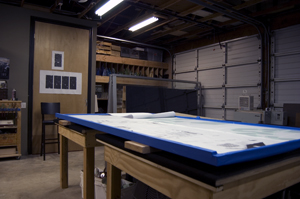 Capacity – A well designed workspace means our small square footage is capable of handling some pretty big jobs. The walk-in sandblast booth for example, has a 9 ft tall door.
Glasstone Studio is evolving, becoming more and more unique. I think that's a good thing. As it grows, I am determined to allow it to be different.
Thanks ~ Ron